The School
At Gyan Ganga School, we inspire children. We try to inculcate in them self-worth, recognition and purpose. We are trying to create a culture. Culture of cooperation, participation and collaboration. A culture of curiosity. For a long time, we felt how schools in India have become factories of skills and competition. We wanted to create a nursery of character and creativity. English and Maths are important. But so is dance and empathy. At Gyan Ganga, we learn by doing. We have playful imagination and the big appetite for uncertainty. We look around and explore. We build diversity, pluralism, inclusion. We create a safe space for ideas and openness for experiments. This is a school for the children of villages in the region, their parents and their rural community. It belongs to the village. Everyone learns from everyone here. And it is not just teaching for literacy. It is learning to cultivate character and integrity.
About the village
Tumariya Ghat is the name of the village where Gyan Ganga is located. It falls in Gram Panchayat Bhakrouli, close to Babrala Nagar Panchayat of Budaun subdistrict. The name of the district is Sambhal in western Uttar Pradesh (UP).
ASER Reports tell us how poorly the region fares, with UP having one of India's lowest education and quality of life indicators; the lowest student attendance, highest out-of-school girls, largest increase in private school enrolment, and lowest scores in reading and mathematics in the whole country.
Within UP, Badaun has the lowest values in school education-related indicators. Tumariya Ghat is located in Badaun, which is now part of Sambhal district.
The government schools are dismal, with huge teacher absenteeism, little regard to teaching and learning. The private schools are hugely expensive, and yet with poor quality education. When we opened our school, many kids from private and government schools flocked to us.
Gyan Ganga School fulfils the need for education for children in around 20 villages around. The map below shows this.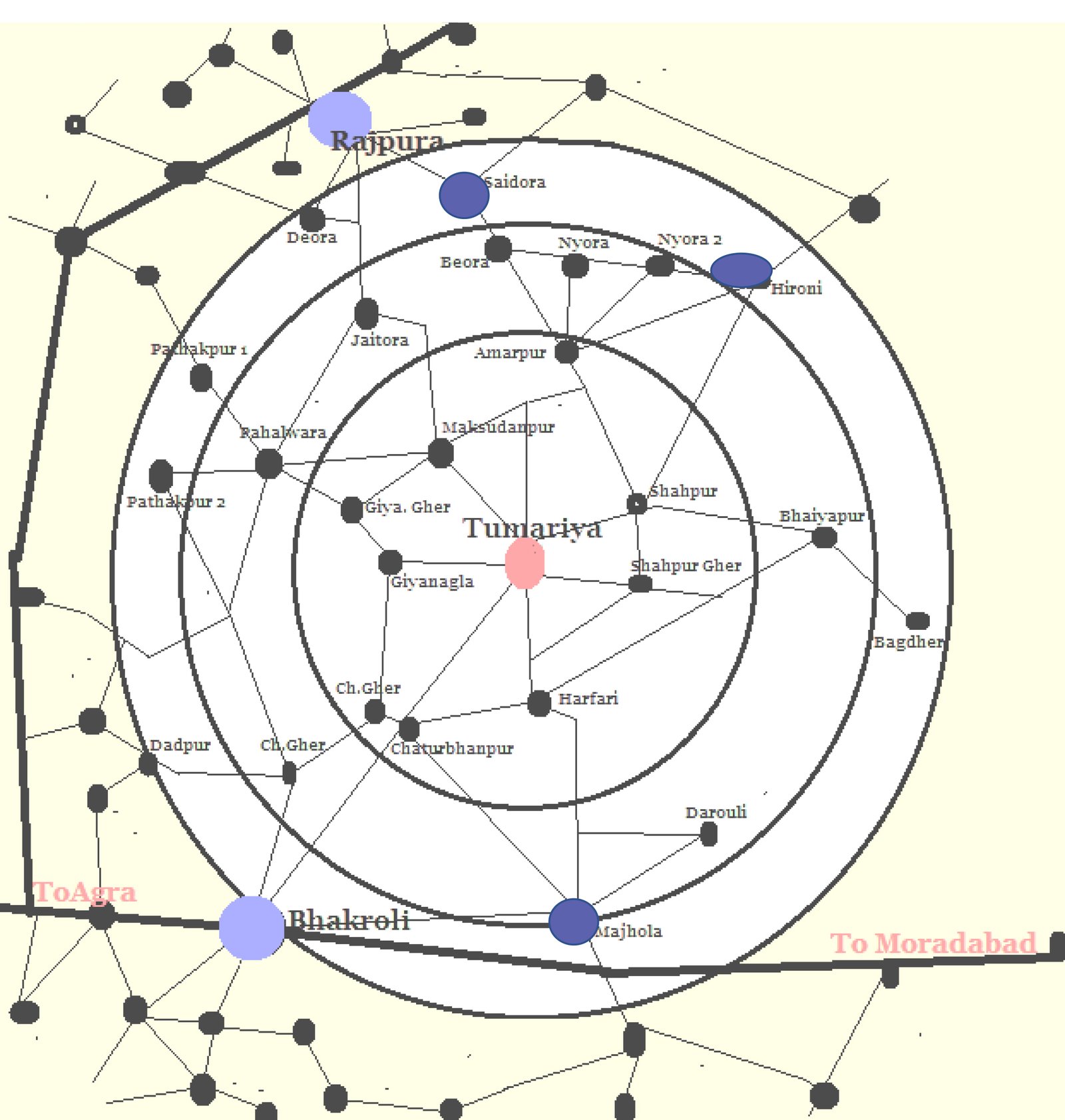 Drawing showing lack of schools in the area. Red circle in the middle shows the location of Gyan Ganga School. Blue circles are locations of existing private schools. Black dots are village nodes in 5 km radius.
The overall population of children below 3 years of age in the region, is almost 7,000 (gender ratio of 0.82). The School aims to cater to all of them over time.